Facebook members can discover whether they are among the 87 million potential users whose data was shared with Cambridge Analytica.

Every account holder is being sent one of two notices informing them whether their data was breached.

The tech giant said people will also be shown what apps they use and what data those apps may have gathered.

Facebook has additionally suspended a data analytics firm called Cubeyou, ahead of an investigation.
The tech giant will look into into whether Cubeyou collected data for academic purposes and then used it commercially, following a partnership with Cambridge University in the UK.
The investigation follows allegations reported by CNBC, regarding a personality quiz called "You Are What You Like", also known as "Apply Magic Sauce".
Cubeyou denies the allegations. Both the firm and Cambridge University state that the app made it clear that data was for use in both academic and business purposes.
In an emailed statement received by Bloomberg, Ime Archibong, vice-president of product partnerships, said Cubeyou's apps would all be banned from the platform if the data firm "refuses or fails" the audit.
Cubeyou said it has always complied with Facebook's rules.
The news comes as Facebook chief Mark Zuckerberg revealed how he plans to begin two days of testimony to Congress in Washington regarding the recent scandals.
His opening remarks include a pledge to never let advertisers or developers "take priority over" his firm's mission to connect people.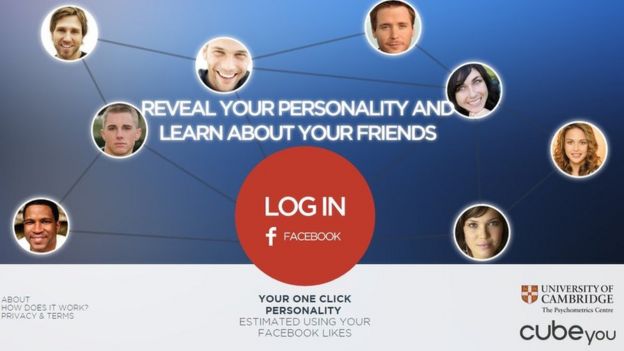 An archived version of the You Are What You Like website. The terms and conditions link no longer works.
The You Are What You Like website was created by Cubeyou in partnership with Cambridge University's Psychometric Centre.
The university said that those who took part would have consented to their data being used "for both academic and business purposes" as it was written in the terms and conditions on the site - and added that all data was anonymised.
However, on the current terms and conditions for Apply Magic Sauce, the university states that the site may only be used for "non-profit academic research".
"Cubeyou merely designed the interface for a website that used our models to give users insight on their data," the university said.
"We have had no contact with Cubeyou since June 2015."
The University centre was also implicated in the Cambridge Analytica scandal, as one of its academics developed the quiz which harvested the data that was acquired by Cambridge Analytica's possession.
Cambridge University denied working with Cambridge Analytica or its parent company SCL and said it had never provided any data, algorithms or expertise.
Source: BBC