California's SpaceX company expects to make a piece of history later when it re-flies a Falcon rocket.

Traditionally, rockets are one-use only - all the elements of the vehicle are discarded in getting a satellite payload into orbit.
But SpaceX has become adept at landing its boosters safely back on Earth after a mission.
Now, the firm is ready to put one of these "flight proven" vehicles on the launch pad again.
The window for a lift-off from Florida's Kennedy Space Center opens at 18:27 EDT (22:27 GMT; 23:27 BST).
The satellite passenger is the property of the Luxembourg operator SES.
Designated SES-10, this 5.3-tonne spacecraft, which was manufactured in the UK and France by Airbus, is booked to deliver a range of TV and telecom services to the Caribbean, Central and South America.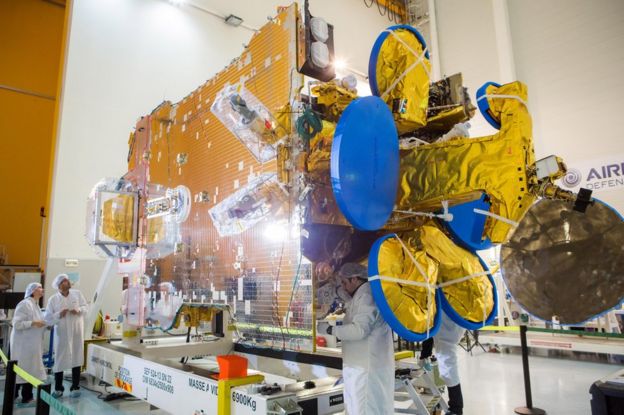 SES-10 was manufactured in the UK and France by Airbus Defence and Space
Only the lower segment - the first-stage - of the Falcon is "second hand". The upper-stage and the clamshell fairing that protects the satellite on the ascent are all new.
The first-stage was originally flown from Florida eleven months ago, to send cargo to the space station.
Once that job was done, the booster navigated its way back to a floating platform in the Atlantic where it made a propulsive landing on deployable legs.
Several months of detailed inspection followed, after which the stage was declared fit to go again.
It should have gone back up in October but the flight was postponed following the launch pad explosion of another of SpaceX's rockets in September.
Re-using stages is part of SpaceX's strategy to lower the cost of access to space, and SES is getting a discount off the normal launch price, which is advertised at $62m.
But although cost is a key driver here, so too is schedule.
At the moment, the opportunities to fly the big telecoms satellites into orbit are limited by the availability of capable vehicles. The commercial launch industry is constrained principally to just three major providers and when one of these has a problem, as SpaceX did with its September anomaly, the "pipeline" to orbit for everyone gets squeezed.
Source: BBC