Zinedine Zidane described Real Madrid's defeat to Villarreal as a "hammer blow", but refused to criticise his players.

Pablo Fornals applied a sublime finish to an 87th-minute counter-attack to give Villarreal a 1-0 win at the Bernabeu.
It is Real's second consecutive home loss in La Liga and leaves them 16 points behind Barcelona, who travel to Real Sociedad on Sunday, live on Sky Sports.
"It is hard to explain. We tried everything," said Zidane. "We had clear chances, but the ball would not go in. There is no explanation.
"This is a bad run that won't stop and it is not good for my players. I can't criticise them. This is simply a bad moment and a tough defeat to take on board because we didn't deserve that.
"Amidst all the negatives we have to look for some positives and on Thursday [in the Copa del Rey] we have a chance to put things right.
"We have done everything possible to win, but this is what we're left with. The ball didn't want to go in. We tried as best we could and I can't really offer any explanation.
"We have games still to come and we can turn this around. We have gone through good times but now we are up against it and we know that. We must focus on what is going to change.
"We must keep working hard and win some games. Today was a hammer blow but we are going to turn things around on Thursday."
Real had an early header from Gareth Bale correctly ruled out for offside, while Sergio Asenjo saved superbly from Marcelo and Cristiano Ronaldo (twice) in the first half.
"It might be a mental aspect that is stopping us from winning," Zidane added. "When we are on a bad run there are always negatives to pick up on. We shot on target but didn't score, when there were rebounds we were not on the end of them. This can wear you down mentally.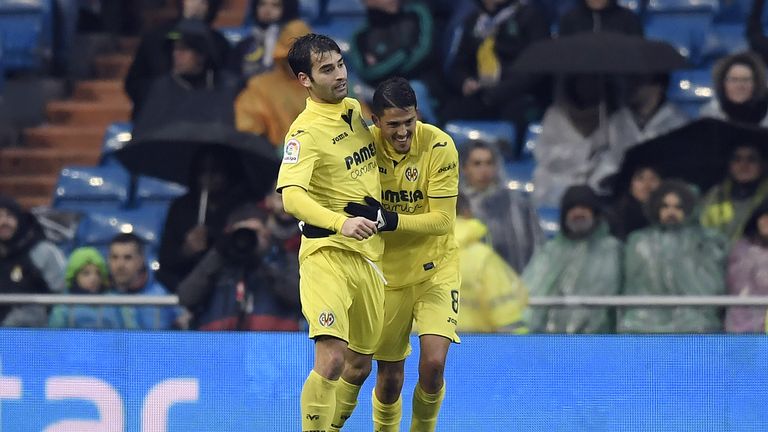 Villarreal's Pablo Fornals (R) celebrates with Manuel Trigueros Munoz
"We did everything possible to win and I honestly cannot reproach my players for their actions. I am not happy but nor do I feel beaten. This is another chance to show that we can turn this situation around. After a game like this, things are tough, but we can turn this around.
"We're here and don't write Real Madrid off because there's still life and hope in this team. There's a game every three days in football. When things aren't going well, you've got the chance to change it, and when they're great, to keep that going.
"We'll change it by sticking together and helping each other out. That's what we need to do to get out of this rut."
Source: SkySports