In a report to mark the fourth anniversary of the kidnapping of the Nigerian schoolgirls from the town of Chibok, the UN children's charity (Unicef) says more than 1,000 children have been taken by Boko Haram militants in the north-east of the country since 2013.

On 14 April 2014, more than 200 girls were taken from their school in Chibok – and more than 100 of them are still in captivity.

Nearly two months ago, more 100 girls from another school were kidnapped. Most of them have now been freed, although one is still being held and five others lost their lives.
Earlier this week, the Nigerian army announced it had rescued 149 people, 95 of whom were children.
Unicef says children in the north-east continue to come under attack at a shocking scale.
According to Unicef's Nigeria representative Mohamed Malick Fall, the Chibok anniversary is a reminder that they are consistently targeted and exposed to brutal violence in their homes, schools and other public places.
Unicef said the repeated attacks were unconscionable, adding that more than 2,000 teachers had been killed and about 1,400 schools destroyed in nearly a decade of conflict.
Boko Haram means "Western education is forbidden" in the Hausa language.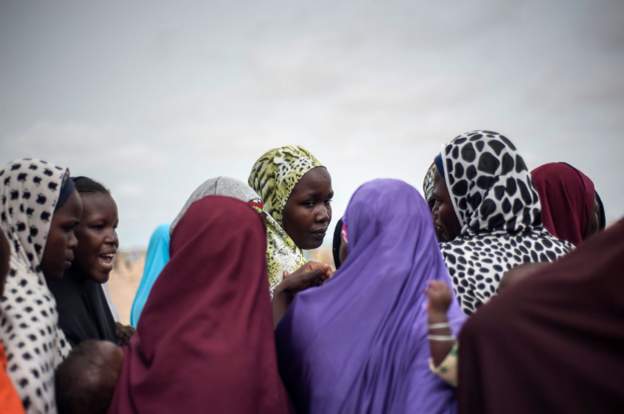 Thousands have been displaced by the nine-year Boko Haram insurgency
Source: BBC