Hundreds of rescuers are combing wreckage in Southern California for those missing after mudslides that have killed 17.

Another 28 injuries have been reported in Santa Barbara County following the deluge that overwhelmed an area scorched by wildfires last month.

More than 100 homes were destroyed, and another 300 have been damaged. One rescue worker tearfully described plucking a "muddy doll" of a toddler from under several feet of debris.
Berkeley Johnson said the two-year-old girl was taken to hospital and suffered an injury to her hip.
"I don't know how the baby survived," Mr Berkeley told the Santa Barbara Independent newspaper.
He said of his own home in the community of Montecito: "This was an hour of rain, and the house was gone."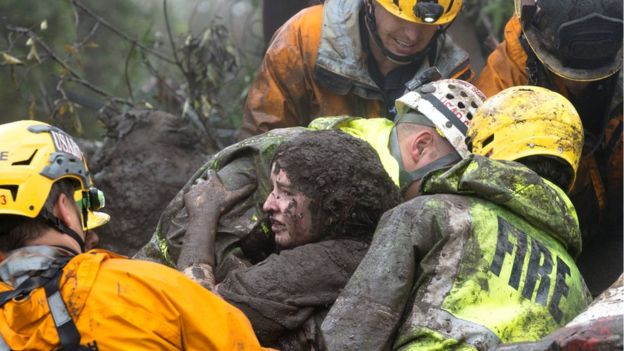 Fire department workers rescued a 14-year-old girl from a collapsed house in Montecito
Mr Johnson said he and his wife, Karen, heard a baby crying after the flooding had subsided and they managed to climb down from the roof of their swamped home.
The pair joined a fireman to dig the toddler out, scooping mud from her mouth before she was taken to hospital.
"Had we not gone over there, I don't think that kid would have [survived]," he added. Police say 17 people remain missing. The death toll rose on Wednesday afternoon after two more bodies were found.
More than 50 people have been rescued already but many places were still inaccessible. Several roads were closed, including the major Highway 101 which authorities say will not be reopened until Monday.
Source: BBC