The Daboase Secondary Technical School in the Wassa East District of the Western Region, has had to compromise the quality of academic work and learning conditions in order to provide makeshift boarding facilities for its students.
It has emerged that the accommodation facilities, in particular, are not sufficient for the student population because of the expected increase in enrolment following the implementation of the Free Senior High School police.
This has forced authorities to convert four classrooms into dormitories as it contends with the infrastructure challenges that other schools have reported nationwide.
When Citi FM's partner station in Takoradi, Beach FM, visited the school, it came out that the school has only one girl's dormitory.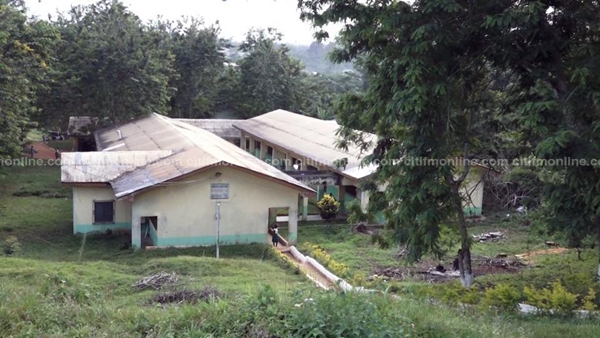 The Daboase District Assembly earlier intervened to alleviate the accommodation problems, with the provision of a single-storey dormitory, but that project has since stalled.
The school's headteacher, Anthony Nsedu, summarized the school's situation saying, "one problem is solved giving rise to another problem."
"Currently, we've got some girls being enrolled in the boarding house, which is laudable. In view of that, we have converted some of our classrooms into dormitories. Already, we are short of classrooms and this has compounded the academic situation."
As a stop gap measure, the school has combined three classes, due to the lack of classrooms, and five uncompleted classrooms have been covered with wooden boards to ensure that the first year students get their separate classes.
The school's authorities have also erected canopies under which the second and third-year students have lessons for elective subjects.
"…Because we are lacking classrooms, we have had to combine the classes. So we have combined them [the students] for the core subjects, and when it comes to the electives, that is also another challenge and therefore, we have had to make do with canopies."
"So currently, we need canopies so that we can erect more, and when it comes to the electives, the students would have access to the canopies and then they would feel comfortable," Mr. Nsedu stated.
Supervision for boarding students
The school has a boarding population of 900 students, but has only three supervisors on the school grounds to supervise students.
Some teachers in the schools commute from Takoradi to Daboase daily, which the headmaster said was also putting a strain on the school's finances.
Anthony Nsedu
"Currently, we have only one master's bungalow, but the school is a boarding school. We need more teachers on [the school premises so as to monitor and supervise the students especially after school and during the weekends."
The school's PTA has also supported the school with another bungalow, "but it is not enough considering our 900 students," Mr. Nsedu also pointed out.
He pleaded for government support and aid from corporate organizations to at least complete their stalled classroom project to ensure that students have more conducive conditions for studies.
Source: citifmonline